Our own Wedding Day at Villa Botanica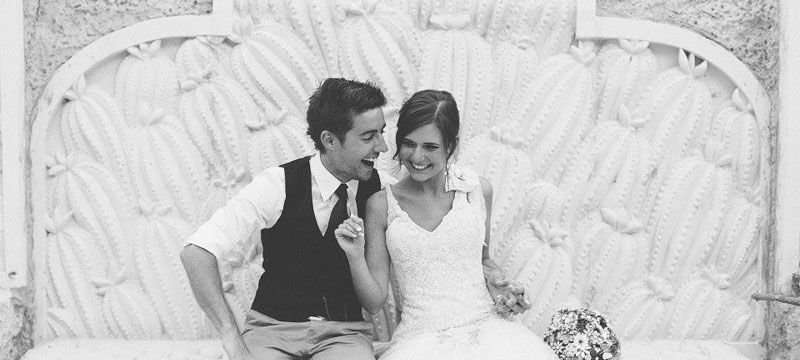 We feel privileged that we have 3 weddings, to be held at Villa Botanica in Airlie Beach, booked this year already which in turn has prompted us to share our own wedding film with you all.
We married at Villa Botanica ourselves in September 2012… and of course we're biased but we honestly believe that it is THE most perfect venue with THE most amazing staff in all of Australia. Seriously, if you're considering booking Villa Botanica for your own wedding day… do it!
You've probably noticed that a lot of our website is dedicated to sharing ourselves with you, telling you everything you need to know (and a few things you don't need to) about us and of course how we work on a professional level. That's no coincidence. We honestly believe that your chosen photographer, videographer / cinematographer and in fact all the staff associated with your wedding day from make-up artists to entertainment staff, MUST be more than just 'good at what they do'. They need to be 'on your wave length' and 'in sync' with you and more importantly friends to you because you're going to be sharing arguably the most important day of your life with them… and surely you only want to share such an intimate occasion with friends?! That's why we've told you so much about ourselves, so that you feel like you know us already and can tell if we're a 'good fit' for you up front!
That being said, we realised that we hadn't shared the most important day of OUR lives with you guys… and if you're sharing yours with us then it seems only fair that we do the same.
Now obviously we didn't film our own wedding (though for a while there I was seriously considering wearing a GoPro under my veil) but we did contract in trusted videographers and then edit the entire thing ourselves (I say 'we', I mean 'Shaun' edited it – he wanted to surprise me). As we didn't film it ourselves some of the techniques we use in our own films aren't in our own wedding video but it is still beautiful and Shaun did an amazing job at accurately telling 'our story' through his editing.
It's 30 minutes long, but it is worth a watch as we had a heck of a lot of unique and personal elements to our 'big day' which will hopefully inspire you to also push the boundaries with your own wedding. I wrote the entire ceremony myself so that it was a complete reflection of who we are and how we had made our journey to our wedding day, or maybe just because I'm a control freak! We tried to think of family traditions to incorporate but in the end we created our own traditions based on our family history and the history of our relationship instead and you can do the same (you'll also learn why 'Lemon Tree' was chosen as our business name; though if you want a spoiler you can read about the 'Lemon Tree' story instead). We dropped the wedding traditions that didn't resonate with us, we chose every single song for the entire day ourselves and we did it all whilst keeping the entire day a surprise from our friends and family!
As a side note: Shaun took FOREVER to edit the last scene as he kept bursting into tears! Seriously! Make sure to watch it to the end as like any good story it has a good beginning and a good middle… but a really GREAT ending!
The moral of 'our story' is: It's YOUR Wedding Day so do it how YOU want to. Don't be pressured into doing anything just to keep someone else happy, don't feel like you have to follow the conventional 'wedding checklist', if it's just 'not you', and above all else, please don't make your speeches a big old 'Thank Fest'. Your guests are there to celebrate YOUR relationship not to listen to 45 minutes worth of thank-you's, so make your speeches personal, tell your story… not only does this make for a much more entertaining speech but it also makes for a better film. (You should take the time to read our advice on 'speeches' if you get the chance too).
So without further ado, here's our own wedding video. We really hope you enjoy it!