Win a Free Wedding Video Package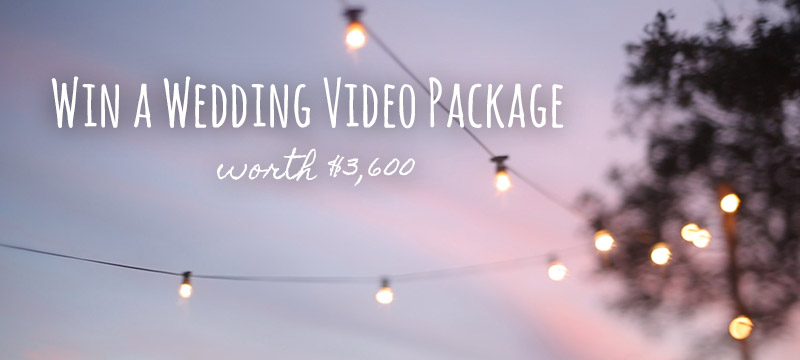 A couple of weeks ago I (Toni-Jo) received the phone call of my life! I won $40,000 on the Sunrise Cash Cow… I know, seriously, who actually wins these things?!
Shaun and I have always laughed that I'm never allowed to buy a Lottery Ticket or a Scratchcard because I'm the unluckiest girl alive…. well looks like the winds have changed! Woohoo!
Anyway… the title of this post said we'd be running a competition so let's get back on track!
We realise how lucky we are to have won $40k and want to pay our good fortune forward. We want to spread the luck (and good will) around… there's enough happiness to go round right?!
So how will this 'Pay it Forward Competition' work, how do you enter and most importantly, what's the prize?
The prize is a huge one… You could win a FREE Wedding Film worth a massive $3,600! This is the Biggest Competition we have ever run!
The plan with this 'Pay it Forward' idea (you've probably already guessed) is that, if you win, you continue the chain by doing something incredibly special for someone, and the recipient of your good deed also 'pays it forward' and so on…. EVERYONE has something to give, whether it's your time, a unique skill, or a simple good deed (I don't mean just buying someone a chocolate bar though – cheapskates). Whatever you give has to involve some kind of effort on your part… for us it will cost us $3,600 but more importantly the 40 or so hours of work we'll be doing for free. So make it a good one!
We'll also ask that you send us proof of your pay it forward good deed within a month. And you'll ask the same of your Recipient. Then we can post all the pictures and stories to our page to see how far this thing goes!
Entering the competition is easy peesy… Just send us an email to hello@lemontreefilmhouse.com or a facebook message answering the following questions and of course you've gotta 'like' our facebook page:-
1) Like our facebook page (some people's privacy settings make it impossible for us to see if they've liked our page so take a photo or screen shot and send it through as proof).
2) Tell us about your wedding including the date, venue(s), styling etc and most importantly any special or unique details you have planned for your wedding.
3) Answer this question (just browse through our website and blog to find the answer): "How and where did Shaun and TJ (that's us) meet?'
4) Tell us how you plan to also 'Pay it Forward' if you're the lucky winner.
And that's it! We're accepting entries until 5.00pm Tuesday 8th July 2014 and we'll be announcing the winner on Wednesday the 9th July at 7.00pm! So you have a whole 4 weeks to enter! It will take you maybe 10 minutes max and the prize is AMAZING! So get on to it!
Make sure to read the competition Terms and Conditions here: Pay it Forward Terms and Conditions