Oh Blighty, how we love you!
* WE ARE OFFERING A HUGE 50% OFF WEDDING FILMS FOR WEDDINGS TO BE HELD IN FEB 2017 THROUGHOUT THE UK & EUROPE! *

If you don't already know TJ (that's me) is from the UK and gave everything up to be with Shaun here in Australia. Now that's love (mind you the sun and beaches do make it a bit easier let's be honest).
I've never really found it super hard to be away from my family and friends (we try to Skype fairly often and Shaun's my best friend anyway) except come Christmas then I SERIOUSLY miss my family who are literally Christmas incarnate, but since having Remy I have found it REALLY tough. All of my friends and my big sister have had or are having children and I don't get to share the joys of parenting with them nor does Remy have the friendships here that she would if we were in England unfortunately. Add to that how my parents and siblings (Remy's grandparents and Aunts and Uncles) don't get to watch her grow up, see how beautiful and funny she is and build their own relationships with her… well needless to say I find it hard not to cry just writing this.
So how do we fix this? Well we make sure to spend more of our lives in the UK of course. Our home is here in Australia but we intend on spending a large portion of the year (every year) across the rather large ditch. We're already lucky enough to travel a lot for work, exp
loring this beautiful world whilst earning a living, in fact 2017 will see us filming weddings in Japan and New Zealand again so please spread the word! If you or someone you know is looking for rad cinematography on their big day, anywhere throughout Europe, we can be there and there wouldn't even be any travel fees (hooray)… just the two of us doing what we do best, 'capturing love' in the land that holds my heart.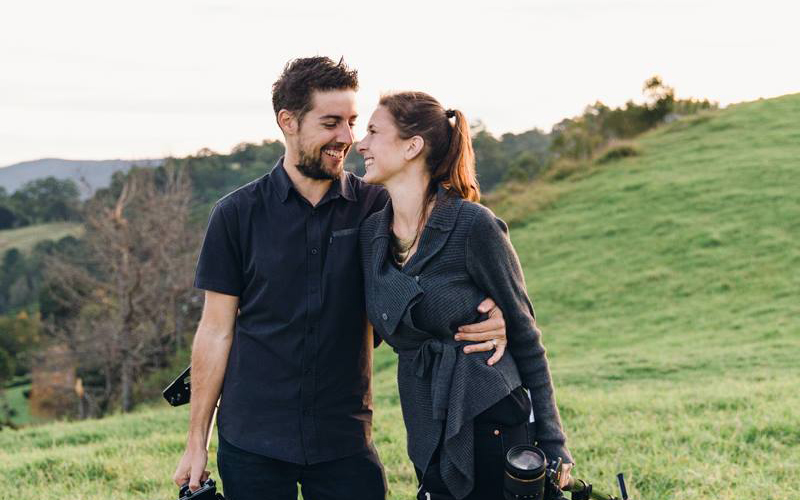 Thanks to Emma Nayler Photography and Nicola Holland Photography for this cute snap of us hard at work.