Greg & Tara, Queenstown, NZ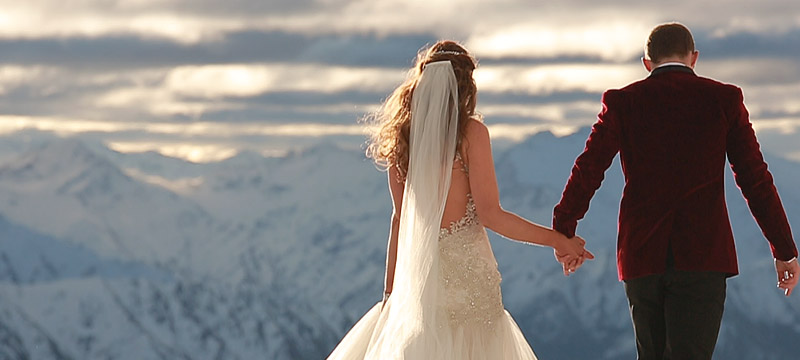 "So I tried to google the odds of your wedding venue burning down. I kind of wanted to know what the odds were because they seemed pretty slim."
The odds of that happening are extremely slim by the way… but that's exactly what happened to Tara and Greg two weeks out from their meticulously planned Jacks Point wedding. I remember receiving the email from Tara letting us know what had happened and what stood out to me was how calm she seemed. I was absolutely blown-away at how incredible this woman was about the whole situation when she could have (and would have been entitled to) have a complete bridezilla meltdown.
"And so that first weekend, when I was trying to navigate my way through disappointment and shock, and worry, it hit me, this was part of the adventure. Life had thrown us a complete loop. Greg and I could scream and cry, fight with each other, go into complete stress meltdown or we could try to handle this with grace and keep that excitement and enthusiasm about our day alive. This precious time when you actually look at each other and you go "we're getting married, can you believe it?!"
When we sent their film to Tara and Greg I told them that although we absolutely LOVE filming in Queenstown and we had to mentally pinch ourselves that we get to make a living from being flown by helicopter up mountains to film (I mean seriously)… it wasn't actually those things that made their wedding an absolute stand-out for us. It was them. The way they spoke about one another throughout their vows and speeches, the way their families spoke of their relationship and of them as individuals and the way Tara spoke of her father. It was their words and their ability to let everyone 'in' on their love and to share in it with them that we will never forget.
We hope that you all spend 10 minutes today sharing it with them too because it's so worth it. You'll laugh and you'll most definitely cry and then you'll spend the rest of your day all warm and fuzzy inside.
… And not to blow our own trumpet, but 6m30s in… well you wait.