Elaina & Ben, Harvest Cafe, Byron Bay Hinterland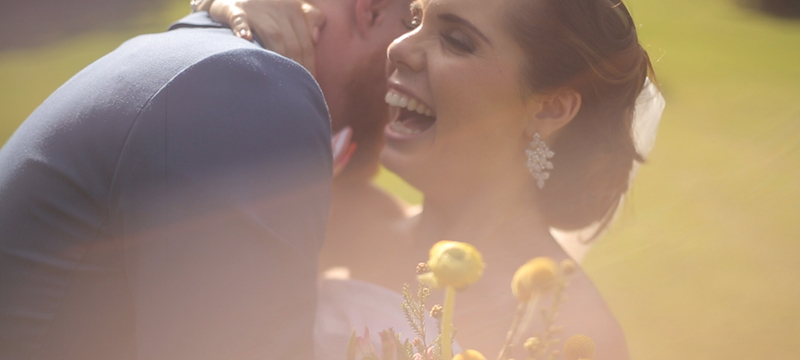 Elaina and Ben, well where do we start? How about with their smiles; the biggest, most gorgeous, happiest and contagious smiles you ever did see! When a couple literally does not stop grinning from ear to ear all day like this pair, creating a film that makes everyone smile is super easy!
E & B had a wonderfully spiritual Greek Orthodox Ceremony followed by a flower-filled banquet style wedding reception at the beautiful Harvest Cafe in the Byron Bay hinterland… and let me tell you, it was such a perfect wedding day! There was so much love and joy that it was palpable, and Harvest Cafe just oozes warmth so it was the perfect venue to reflect E & B's welcoming nature. All this along with their 'shared table' feast (THE most delicious food FYI, I mean really I have never enjoyed brussel sprouts so much) made for such a sense of family and comradeship. It's weddings like this one where we literally pinch ourselves that we get to do this for a living. We are CRAZZZZZY lucky!
We smiled back at Elaina and Ben throughout the editing process and loved the end result so could not have been happier when we received this feedback:
"We laughed. We smiled like idiots. I cried.
And then Ben turned to me and said "You were right. This film was a great investment!"
It is stunning and so much more then we could have ever imagined! You two are so talented and should never (ever) stop doing what you do.
Before we nailed down our date with you lovely people, Ben use to say that he didn't think we needed someone to film our day. I on the other hand was very much for capturing our day so that one day we could show our children and because I knew that I wouldn't remember the speeches and some of those little special moments of the day. Thanks to you both, we will be able to watch our day even when we are old and grey.
To be able to see it again and again, to smile and cry in that special way is because of you both.
Thank you from the bottom of our hearts for capturing and creating something so very special for us.
Please don't ever give this talent up, I cannot only imagine how many lives you will touch with your films.
We love you guys!
Mr and Mrs O'Shea 😘😘😘 "
Seriously though. Elaina and Ben, we should be thanking YOU because we had such a blast!
If you want to start your weekend with love and happiness then we suggest you watch E & B's insanely perfect wedding day…