Chris & Tas, Hydeway Bay
OMG! This destination wedding was GOOD! I don't even think any words can do it justice, but I think our film does.
Chris and Tas held their wedding at Tas' family home in Hydeaway Bay (an hour North of Airlie Beach)… now don't think for a second that this family home is a standard 'bricks and mortar' job; no THIS family home is OUT OF THIS WORLD.
Originating from South Africa, Tas' father built this gorgeous property that backs on to a secluded beach and comes complete with a big beautiful tree reaching up through the atrium style entrance. South African inspired decor of wood, oranges and yellows make for the most warm and inviting atmosphere… which aesthetically AND emotionally was mirrored throughout Chris and Tas' wedding.
When it comes to the styling we had no doubt that this dynamic duo of designers were going to create something spectacular and we were not left disappointed; they built everything from a bridge for their guests to cross, to the tables and even the men's outdoor toilet, all especially for their big day and considering they live in Sydney, even the logistics of organising and transporting it all is pretty damn impressive!
We skyped them a month or two before their wedding, and our eyes absolutely lit up when Tas explained, in her own words, that Chris had become a bit of a 'groomzilla'… nothing excites us more than to hear that a groom is just as invested in the planning of the big day itself as his bride is.
But with all the above being said, I still don't think we could have prepared ourselves for what lay ahead – and nor could the guests!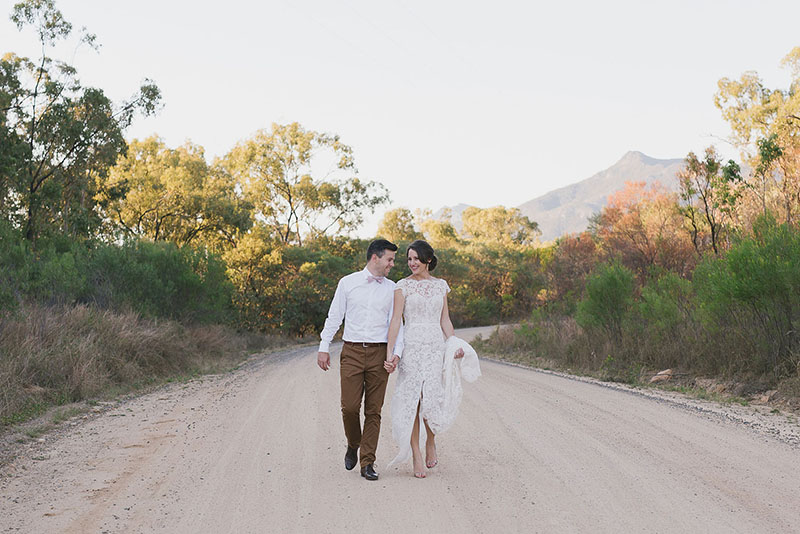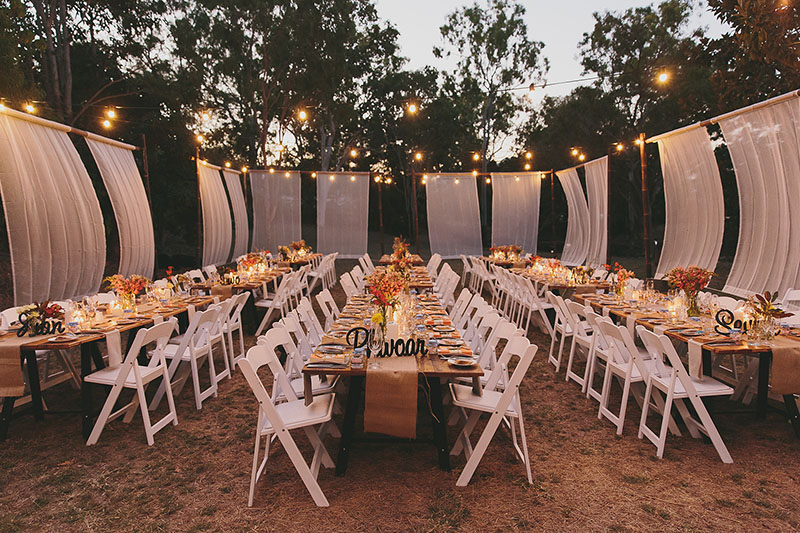 Gorgeous Images from our friends at 'The Sentimentalists'.
Their incredible eye for detail and love for beauty was one thing but what really blew us away and made us EXTREMELY happy campers was their way with words. Their vows and speeches were funny and daring yet remained sweet and incredibly heartfelt and just as importantly, their delivery of them was natural, as if they were having a conversation just the two of them, which is exactly how it should be when standing in front of a room (or in this case an open-air, starry-skied storybook setting) full of your closest friends and family that love you.
Every good story needs a narrator and that duty falls on you guys! Without emotionally moving and personal vows and speeches we can't truly 'tell your story'. So when Chris rhymed his vows, leaving everyone in tears (of laughter and of love) and when his best man described Tas' love for Chris as "clear for everyone to see through her dedication to stay with him even if he had hiccups for the rest of his life", we knew that the hard work had been done for us and that we would have no trouble telling this couple's unique story throughout our film!
We're sure you'll agree that this wedding was nothing short of breath-taking! Enjoy our film; I'm sure this gorgeous wedding will inspire you with your own plans!